Interview with Joseph Bihag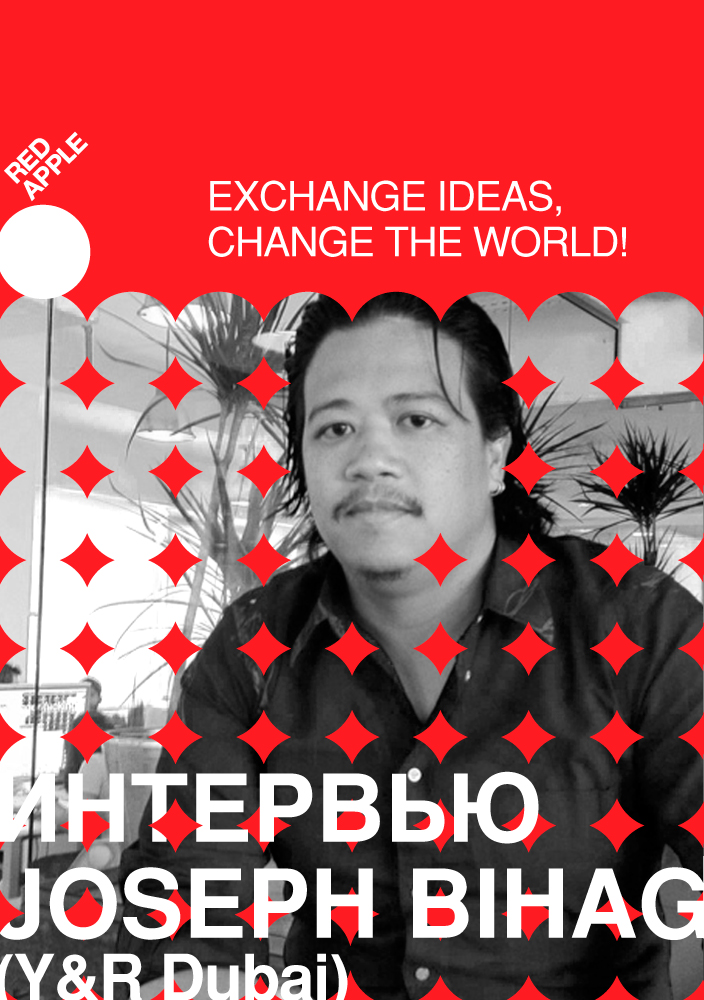 Creative Director
Y&R Dubai
Joseph has been at Y&R Dubai for more than a decade. That doesn't make him part of the furniture, but rather, the walls that hold the agency together. He is a man who believes in paying his dues, particularly to his work. Which he does for 23 hours in a day, most days. He calls it the Joseph Method of Advertising, and he has been refining it since.
Joseph heads the Digital and Brand Experience divisions at Y&R Dubai and has created work for almost every brand in the agency including Land Rover, Colgate-Palmolive, Coca-Cola, and Kit-Kat.
His work has been honoured at Andy, Cannes Lions, One Show, D&AD, New York Festivals, Epica, Clio, London International Advertising Awards, Adfest, Effie and Dubai Lynx. He was also part of the team responsible for getting Y&R Dubai the Agency of the Year and Network of the Year accolades at Dubai Lynx 2011, 2012 & 2013.
- What is the most attractive in the advertising industry? Were expectations fulfilled?
I love waking up every day knowing that I can create something entirely new that can influence people on how they perceive things, buy and live our brands.
- Which country is the most perspective for developing of advertising industry nowadays? In which country will industry develop mostly in the future?
Philippines. With the surprise grand prix winning ideas coming from Philippines last year, I hope that there will be more for years to come.
- You have worked in different agencies in different countries, what are the main differences between people, atmosphere..?
Agency culture stems from the top and trickles down to all staff. It is what defines who gets hired and how the agency will function. Bridging that nuance between the agency and staff makes the difference whether it will be great agency to work with or not.
- If you have an opportunity to work in absolutely another sphere what would it be?
I probably would pursue linguistics and theology. Having worked with so many nationalities (20 nationalities at one time) that speak different languages and worship different religions made me a better human being. It fascinates me what you'll learn and how common we all are.
- Which person in the sphere of advertising inspires you? Why?
Saul Bass. I started in graphic design and to me he was way ahead of his time. Visionary. A rebel.
- How does it look like an ideal ad agency/advertiser?
There's no ideal agency or advertiser. It's because of the diversity of ad agencies and their advertiser counterpart that makes our industry one of, if not the best, industry to work in. As long as we listen to our clients, and advertisers pay their respect by also listening to what the agency has to offer, you can have an ideal relationship.
- May digital ads completely displace print ads?
In 2050 perhaps. Until every one on the planet is connected digitally, there will always be a need to communicate our ads on a printed medium.
- Name five things without which you cannot live.
2G, 3G, 4G, Wifi and my iPhone. Not necessarily in that order.
- Slogan of Red Apple festival is "Exchange ideas, change the world!" What are changes for you (in general)? Do people need them and why?
With our world getting smaller and smaller by the minute, it is quite easy nowadays for any advertising to be picked up by social media and get talked about. A true inspiring idea is one that not only sparks conversation amongst people, but it elicits change not just for one person but for a generation of people.
Subscribe to news
By subscribing to the newsletter, you agree to с  Privacy Policy